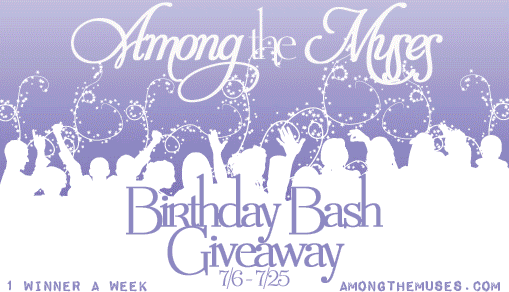 Welcome to my first giveaway-- and birthday bash!!
I've decided to share some of my birthday funds with those of you who love to read as much as I do. So, here's the fine print……
There will be three weeks of giveaway chances. Each week I will post a different set of books from my Wish List Folder. (I've listed some of the ones that fit the genre of the blog.) The books also have release dates set for July. After all, my birthday is July 22!
All you have to do is fill out the form for that week to enter. Of course, pimping the contest will gain you extra entries!
Make sure you check the dates for the weekly postings and winner announcements. Winners will have 48 hours to claim their prize before I pick a new winner. Winners will be picked using random.org. FYI -- the quicker the winner responds, the quicker I can get the book out!
You can enter the new giveaway each week.
Sorry, but the contest is limited to US and Canada only.
Fine, Fine Print….
If you are a winner who sees a book in the list that is part of series, but you are not at that book yet, I may be able to work something out with you so that you can get an earlier book from the series.
Because of shipping and pre-order rules at both Amazon and Barnes & Noble, I will decide which company the winner's book comes from.
WINNER OPTIONS: For US Residents -- Non Alaska and Hawaii Residents
I will purchase the book that you have requested and send it to your address. I will be using standard shipping, so it may take a few days for it to arrive depending on location.
If you don't want to wait, and would rather be able to get your book as a digital Kindle version, or Nook version … then I will email you a eGC that will cover the cost of the book.
WINNER for Alaska, Hawaii, and Canadian Residents
I will follow the same above rules, however, the shipping could take anywhere from 7 to 16 business days!
Week 1: July 6 - 11; Winner announced on July 13
Week 3: July 19 - 23; Winner announced on July 25
You must fill out the form to be entered into the contest, but please feel free to leave a comment!
ENTER Week 1 Giveaway